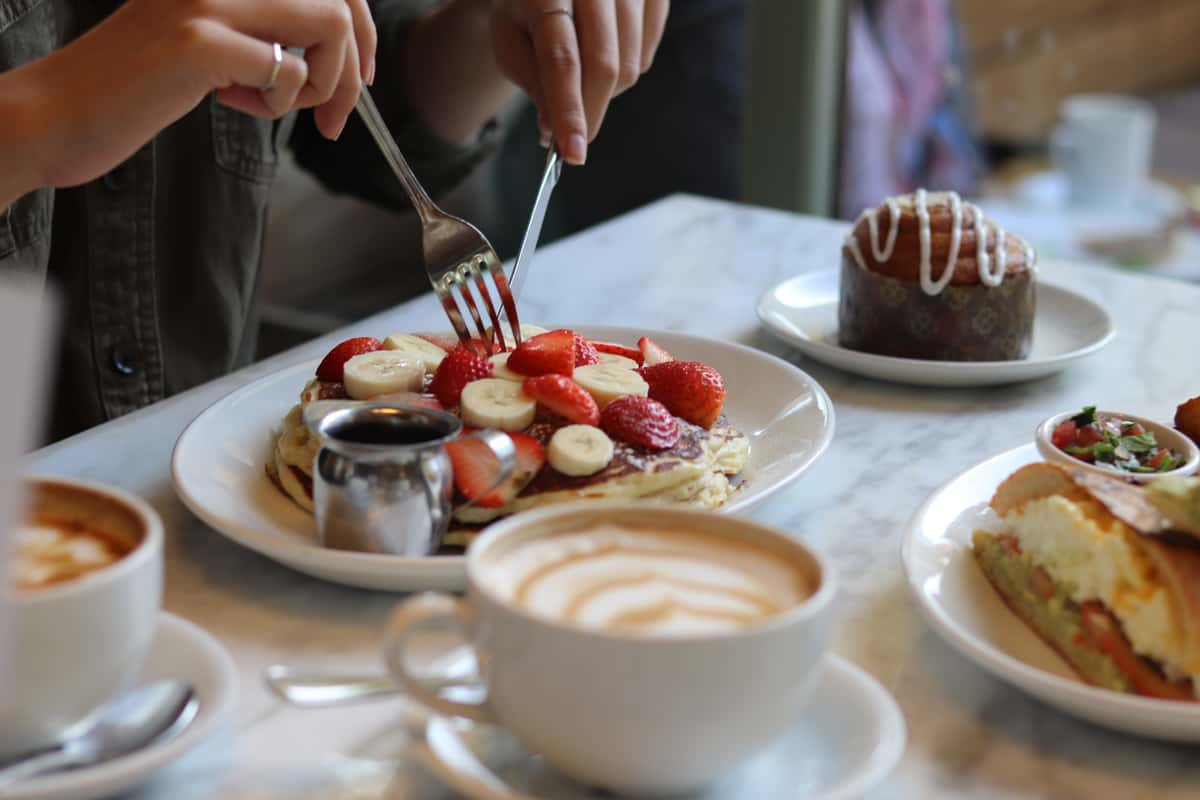 Press
21 Benefits of Green Tea Matcha
5,000 years ago, it was just a leaf. Now, it's a lifestyle. Read more about our Tenzo Matcha Green Tea, and its wide array of health benefits!
Coral Tree's Safety Measures
To ensure your comfort and safety, we have taken numerous measures to go above recommended health & safety guidelines to make your dining experience enjoyable.
Featured On Thrillist
"Brentwood often gets a bad rap as the home of calorie-counting soccer moms and acai-slurping yogis; if you dig deep enough, though, you'll find some truly bold eats around town."

Click below to read why we're one of the best!
Paint Nite At Coral Tree Cafe!
Join us for an interactive evening of wine & art at our Paint Nite Events at our Brentwood, Encino, and Beverly Hills locations! Learn to paint a masterpiece with an art teacher while enjoying wine, food, and great company! Tickets and schedules can be found via the following links:
Featured On Citizine
"Coral Tree is my go to when it's cold and rainy out. There's a great firepit outside, heat lamps and it feels cozy and comfy."
Click below to read why we're one of the best!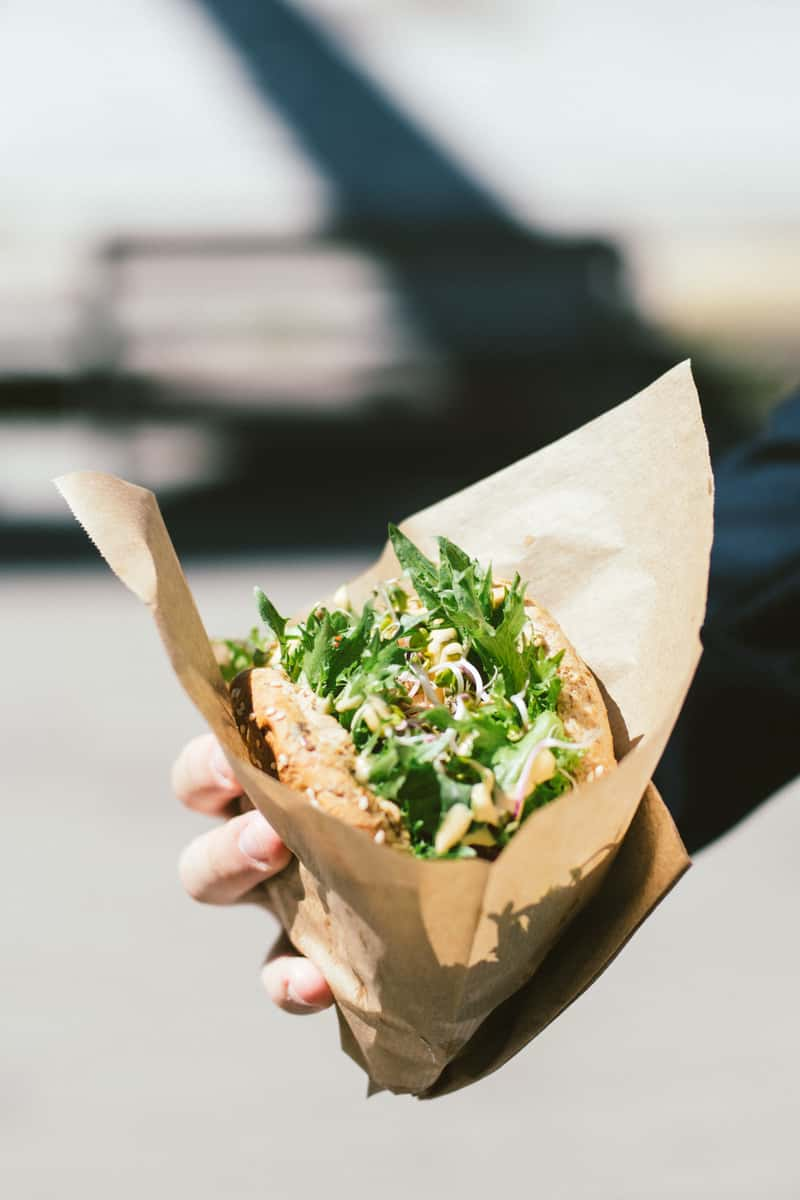 We Teamed Up For "Every 15 Minutes" With Beverly Hills PD And BHHS!
We are excited to have been a part of "Every 15 Minutes" at Beverly Hills High School on March 6th, 2017 and providing lunch to those who were involved in the planning. Thank you to all of the police officers, firemen, faculty & students for their hard work in putting this event together for the school to teach fellow students about the consequences of drinking and driving.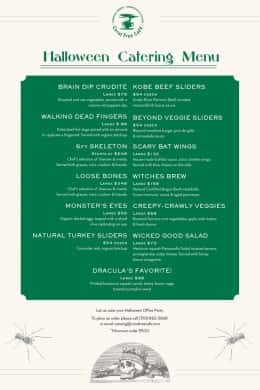 Halloween Catering Menu
Thinking of hosting a freakishly amazing Halloween party? Bring a touch of ghoulish delight to your Halloween party with our customized catering menu, devilishly delicious and designed to scare. From skeleton crudité boards to green chocolate fountains, give our catering team a howl today to start planning today!
"Walk With The Mayor" Visits Coral Tree Beverly Hills!
We are excited to have been a part of "Walk With The Mayor" at our Coral Tree Cafe Beverly Hills location on April 27th, 2017. For more information about Mayor Lili Bosse's #BHHealthyCity initiative
LAPD: Coffee With a Cop
"On April 5, the Los Angeles Police Department hosted "Coffee With a Cop" at Brentwood's Coral Tree Cafe on San Vicente aBoulevard."

Click below to read the rest!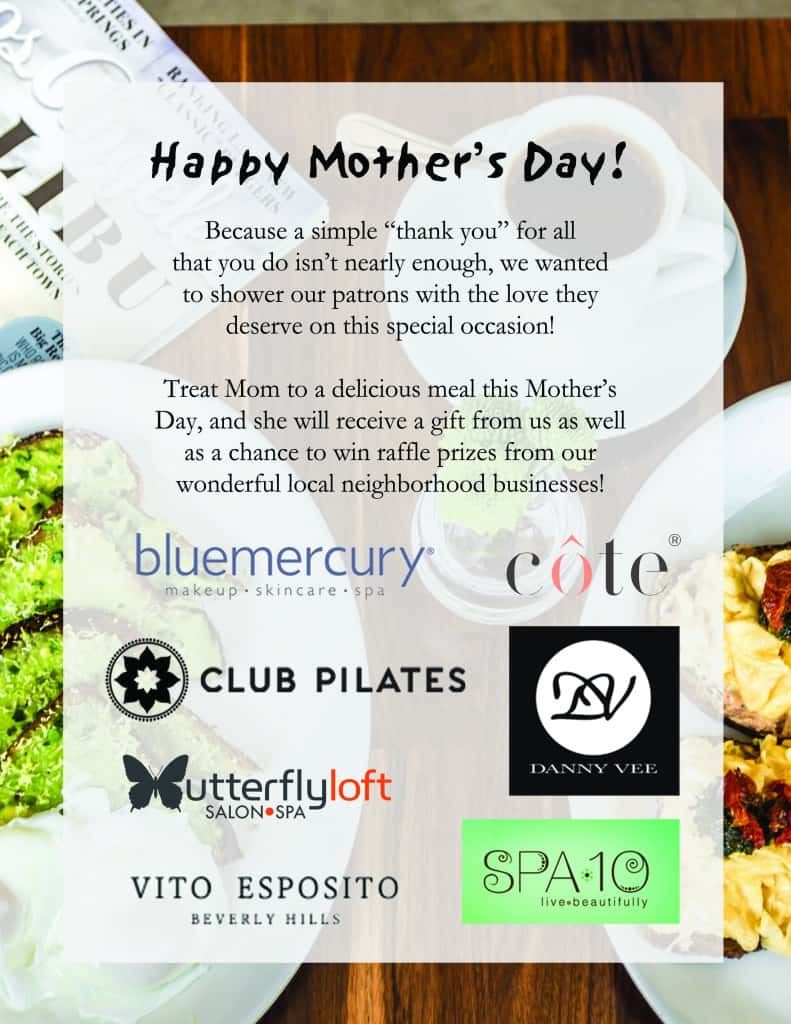 Mother's Day Raffle At Coral Tree Cafe!
Bring Mom to Coral Tree on Mother's Day – We've partnered up with local businesses to offer Coral Tree mothers a chance to win a variety of prizes on her special day.
Dogs And Coffee Shops: Etiquette Guidelines For Successful Visits
Dog owners love to take their pups out and about around their neighborhood and community and heading to the coffee shop after a walk or to gather with friends can be a fun experience. However, there are some etiquette guidelines that owners should be aware of to ensure that the outing goes smoothly.

Consider your dog's temperament before hitting the coffee shop together
Coral Tree Wins "Best Cafe In Los Angeles" On Daily News
Followers and fans of Coral Tree Café had to know this wonderfully consistent restaurant would win "BEST" Cafe sooner or later. The first Coral Tree Café was founded in Brentwood in 2002 to address the need for "a really good, honest, organic breakfast," says Kevin Khalili, one of the founding partners. It caught on quickly, expanding to Encino and Century City.

Read the rest below
Heal The Bay With Coral Tree!
17 Years of Roots and a Lifetime of Coral Trees

Seventeen years ago, desire turned into intent, and the seeds for Coral Tree Café were planted. All of which was inspired by one simple goal–opening a casual eatery to offer the neighborhood good food with good intentions. Over the years we have not only served certified organic, fair trade coffees & teas, but also opted to use organic produce and sustainable practices wherever we can, resulting in our being one of the first and only Certified Green Restaurants® in Los Angeles. Now we are taking the next step, and doing our part to phase out the worldwide use of straws.
Travel Guide For Your Los Angeles Adventure
Hitting the road from Los Angeles is a great start to an RV rental holiday. The city is easily accessed from all over the globe via LAX, and there are great places reachable by road in all directions. From wine regions to Mexican fiestas, you will find a direction and destination you like. A motorhome rental also makes it easy to get around Los Angeles and see all of this 'larger than life' city.
Donate A Meal Program
Coral Tree Cafe is teaming up with our community, BREADBAR LA, Ella's MealBridge LA & Project Frontline to deliver boxed lunches each week to first responders who have requested meals, including our local hospitals, fire department & police stations.
7 Ways To Reuse Coffee Grounds
Call it a perk. A stimulus for your wallet. Don't toss those old used coffee grounds — your fair-trade coffee can have a second (or more) use long after you're done with your morning cup. We're here to spill the beans on seven ways to reuse coffee grounds.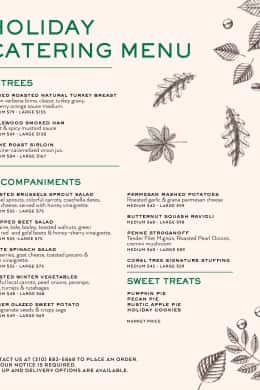 Holiday Catering Menu
All the Holiday Classics,
Prepared Perfectly for You.

The holidays are about enjoying family and friends, leave it to us to make you the perfect host! Whether you are planning an office luncheon or an elegant evening around your dining table at home, our team can help make your holiday event sparkle with the perfect meal. We offer delivery, pick up, and full service catering including, rentals, serving staff & onsite chef. Contact our catering specialists today to help plan your upcoming event!

Orders must be placed 72 hours in advance.