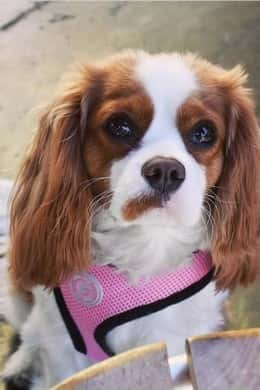 Dogs And Coffee Shops: Etiquette Guidelines For Successful Visits
Dogs And Coffee Shops: Etiquette Guidelines For Successful Visits
Dog owners love to take their pups out and about around their neighborhood and community and heading to the coffee shop after a walk or to gather with friends can be a fun experience. However, there are some etiquette guidelines that owners should be aware of to ensure that the outing goes smoothly.
Consider your dog's temperament before hitting the coffee shop together
While not every coffee shop is welcoming to canines, many neighborhood spots like, Coral Tree Cafe, are open to it as long as the local guidelines are followed. And having canines in the mix of things can add a sense of community as dogs make it easy for people to connect with one another. However, it is important to do some prep work before taking your pup to the shop to make sure that the excursion is a pleasant one.
The site Dog Friendly notes that it is important that your dog is well-behaved around other people, as if your pup is aggressive or jittery around strangers, it can make for a stressful experience for everybody. Socialization is key to ensuring that your canine will be able to enjoy these kinds of outings, and this process should be started long before you want to stop by the shop for a cup of coffee.
Making sure that your dog is well socialized is critically important, and the best time to work on this is during a pup's early months in life. Mercola's Healthy Pets blog points out that early socialization is key to avoiding behavior problems in canines and this involves exposing your dog to new environments, people, and other animals in a controlled way. This exposure helps them to feel confident and comfortable in new situations and those dogs who are not socialized well can become fearful, anxious, and aggressive.
Keep your pup leashed and choose a remote spot to sit if possible
For those dogs who are comfortable being around strangers and who enjoy outings with their owners, a trip to the coffee shop might be in order. Proper dog etiquette details that pups should be kept on their leashes at the coffee shop and it is best to tie the leash to your chair or even to your belt or wrist, shares Dog Training Nation. Make sure that the leash is short enough to keep Fido from bothering others at the shop during your visit and keep an eye on the dog to ensure that he doesn't get tangled up as you sip your coffee.
Dogs are expected to be able to relax next to their owners while visiting the coffee shop, so any rambunctious behavior or frequent barking would be a problem. Make sure that your dog can follow simple commands like being able to sit or stay and aim for an out-of-the-way location at the shop, like a corner away from busy areas.
Help your dog succeed by planning ahead
One of the best things you can do to prepare for a trip to the coffee shop with your pup is to spend time getting in some quality exercise. Find a dog-friendly park in Los Angeles and spend ample time allowing your dog to run his or her energy out. Consider bringing a portable water bowl and some snacks or chew toys to help keep your dog content. And stay tuned in to how your dog is acting; if at any point he or she starts to seem anxious or agitated, it's time to wrap things up and head out before things get chaotic.
Connecting with others in your neighborhood or community at a local coffee shop can be a great experience for both you and your dog, but it is wise to follow some simple guidelines and do some preparation ahead of the visit. Make sure that your dog will feel comfortable in this type of setting and be sure to keep your pup leashed and occupied during your time at the shop. Following these simple etiquette guidelines can set the stage for successful outings that you and your pup can enjoy time and again.